Ghost began as a Kickstarter project by developer John O'Nolan, who wanted to make a completely open-source, customizable blogging platform. Within days he raised $306,773 on an initial goal of $39,000. Widespread media coverage about the project guaranteed a massive appetite for Ghost once it launched in May 2013.
Challenge
Ghost acquired hundreds of thousands of new signups for its 14-day free trial quickly. It just needed to figure out an efficient, inexpensive way to convert these trial users into paying ones. Through their analytics, John determined that trial users who personalized their blog were also 10 times more likely to convert to paid accounts. Specifically:
Publishing a first post: 5% conversion
Uploading a custom theme: 10% conversion
Adding a custom domain: 8% conversion
Users who had not completed any of the above events converted at a less impressive 0.9%.
The challenge was figuring out how to convince new users to personalize their blogs. Aside from obvious, but less trivial, solutions such as revamping the way these features are discovered, the team wanted to automate onboarding messages.
Solution
After evaluating a number of providers, Ghost settled on Intercom to manage its entire marketing lifecycle. With a few clicks, Ghost segmented 100,000+ users based on attributes like activity level, location, size, etc.
The next step was engaging users and encouraging them to use Ghost's customization features. The team set up a series of emails and in-app messages triggered by certain events. For instance, this email is sent to free trial users who have published at least 1 blog post: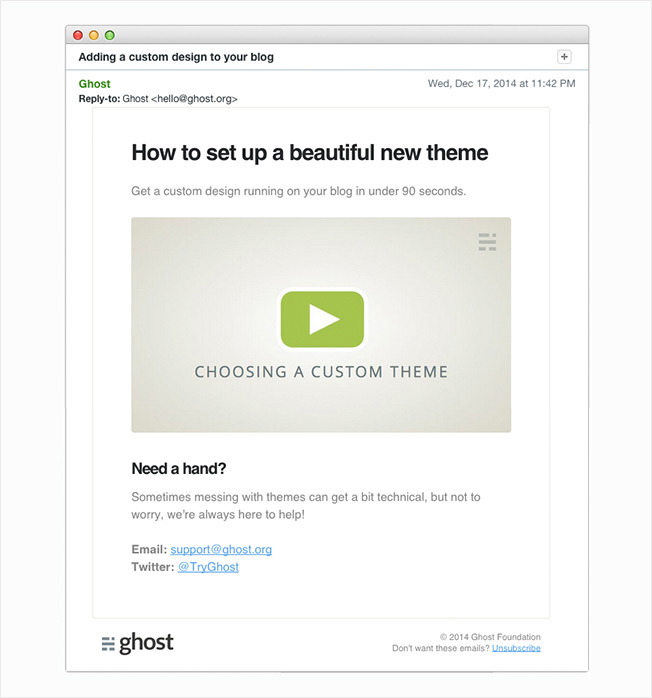 As it turns out, trial users who watch a tutorial video are 3x more likely to keep engaging with the product.
Another email aims to encourage new signups to write their first blog post: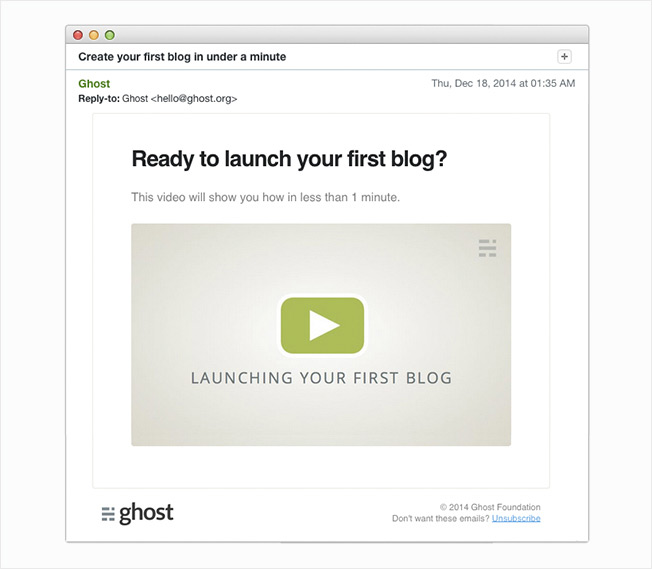 "Importantly, we prevent spamming users by adding a 'Last Contacted > 1 day ago' filter so no one receives an email from us more than once every two, and usually more, days," John says.
Another way Ghost engages users through personalized messaging is by sending in-app messages to more active, loyal users. For instance, Ghost created a segment for "high-potential" paid customers and sends the following in-app message, making sure their 'Last Contact' date is set to over 3 days: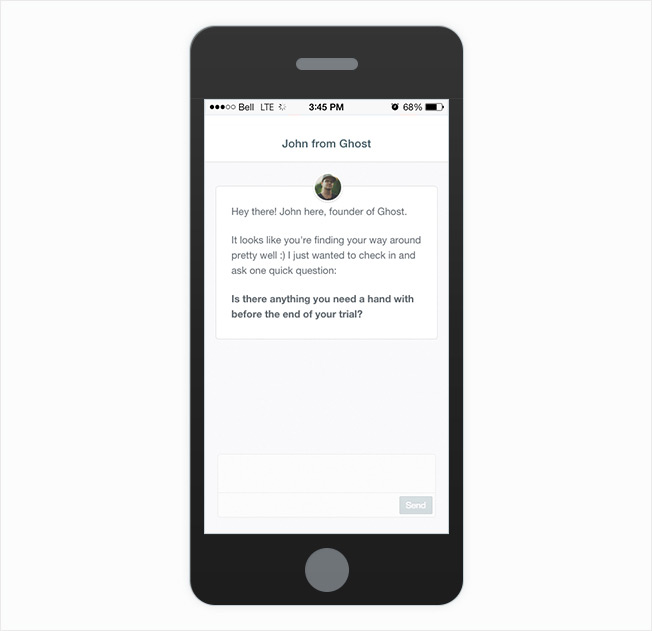 The response rate to this personalized in-app message is over 12% and customers have responded along the lines of,
Loving it to so far, will be signing up!
Looks like it's working, thanks!
No, thank you. Everything is actually great. I'm getting the hang of it now. :)
More recently, Ghost began hosting local meetups for customers to meet and exchange blogging best practices. John can quickly segment active users in a certain city and send an invitation.
Results
Intercom has allowed Ghost to engage a massive, global community of bloggers. By sending email and in-app messages at the right moment in a new user's experience with a product, Ghost was able to triple its conversion of trial to paid users.
Furthermore Intercom's segmentation engine allows the small team at Ghost - who all work remotely - to further personalize messages to key subsets of customers.
We've tried every automated marketing tool out there. Only Intercom makes us feel closer to our customers.