It's hard to believe that only three years ago, InVision was a two-person startup building a specialized SaaS tool for designers. In those early days, co-founder Clark Vahlberg sent and replied to the vast majority of customer emails. As a designer building for other designers, he firmly believed in the importance of providing personal attention to his customers.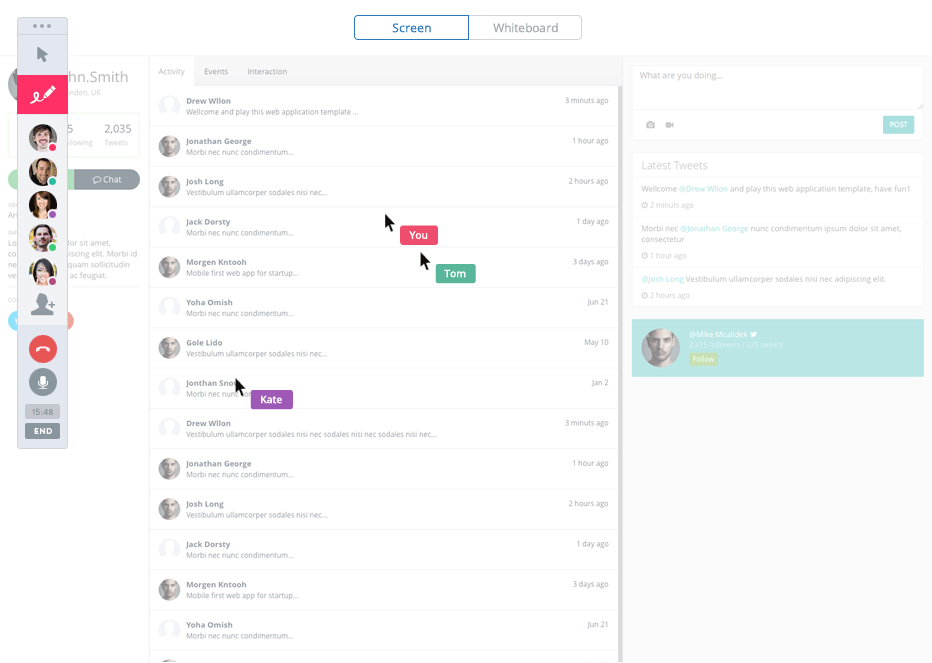 Invision's live collaboration tool.
Challenge
But as one might imagine, this strategy didn't scale well.
"Authenticity is part of our DNA. It is hugely important to us that our customers feel like they're being communicated to in a meaningful way," said Ben Jordan, VP of Customer Success, InVision. "We have an engaged group of designers. We're in the hearts and the daily grind of our customers and we want to make sure they feel loved by us."
Ben joined InVision in 2014 with the task of providing a personable customer experience, from the moment a user signs up to the day he or she unsubscribes from all InVision messages.
Users are quick to dismiss things that seem fake or contrived, and personalized messaging is one of the best ways to get users to actually receive and read the message you are sending.
Another problem it faced as it scaled was the quality of Support. Before Intercom, InVision used Help Scout, a popular ticket-based help desk solution. However, Ben said that most of the time, customers wrote in about things that required a long-tail conversation.
"Customers would send messages to us to say 'Hey, I would really love this feature' or 'Hey, you have a bug here.' Things that were open-ended. A lot of these conversations would just die on the vine and the only way a customer could see we'd finally released that feature or fixed the bug was by discovering it themselves."
Solution
InVision uses Intercom to maintain a 365-day lifecycle of automessages, triggered by time since signup, as well as events like an upgrade, downgrade, or use of certain features. It also holds some Support-related conversations in Intercom.
"We really use the full lifecycle to develop a relationship with a customer and keep engagement rates high," Ben says. "We'll send your standard Day 1, 3, 5 emails, but we also send emails when a customer pays, asking for his or her address so we can send them a small gift. We'll send emails to our most active customers at certain times in order to ask for feedback."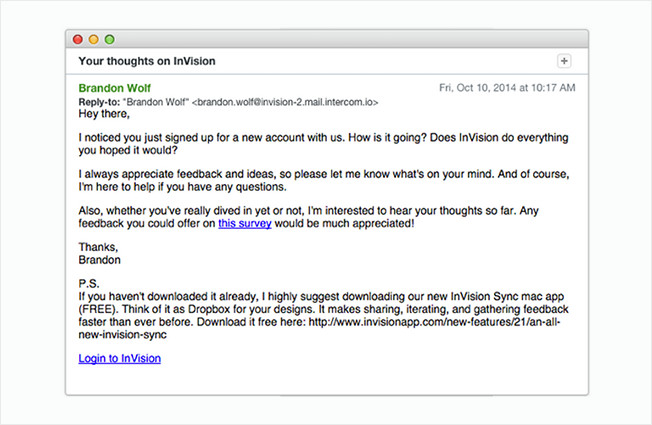 An in-app message sent 1 week after a signup.

Filter for the above in-app message.
This message helps gauge the onboarding experience and identify any pain points that aren't obvious through event tracking. It's also an important touchpoint for increasing user engagement. "Adding a postscript is a pretty simple way to draw extra eyeballs to a certain call to action," Ben notes.
Feature requests are also sent through an in-app message. The reply box allows customers to send feedback as soon as they learn about a new feature: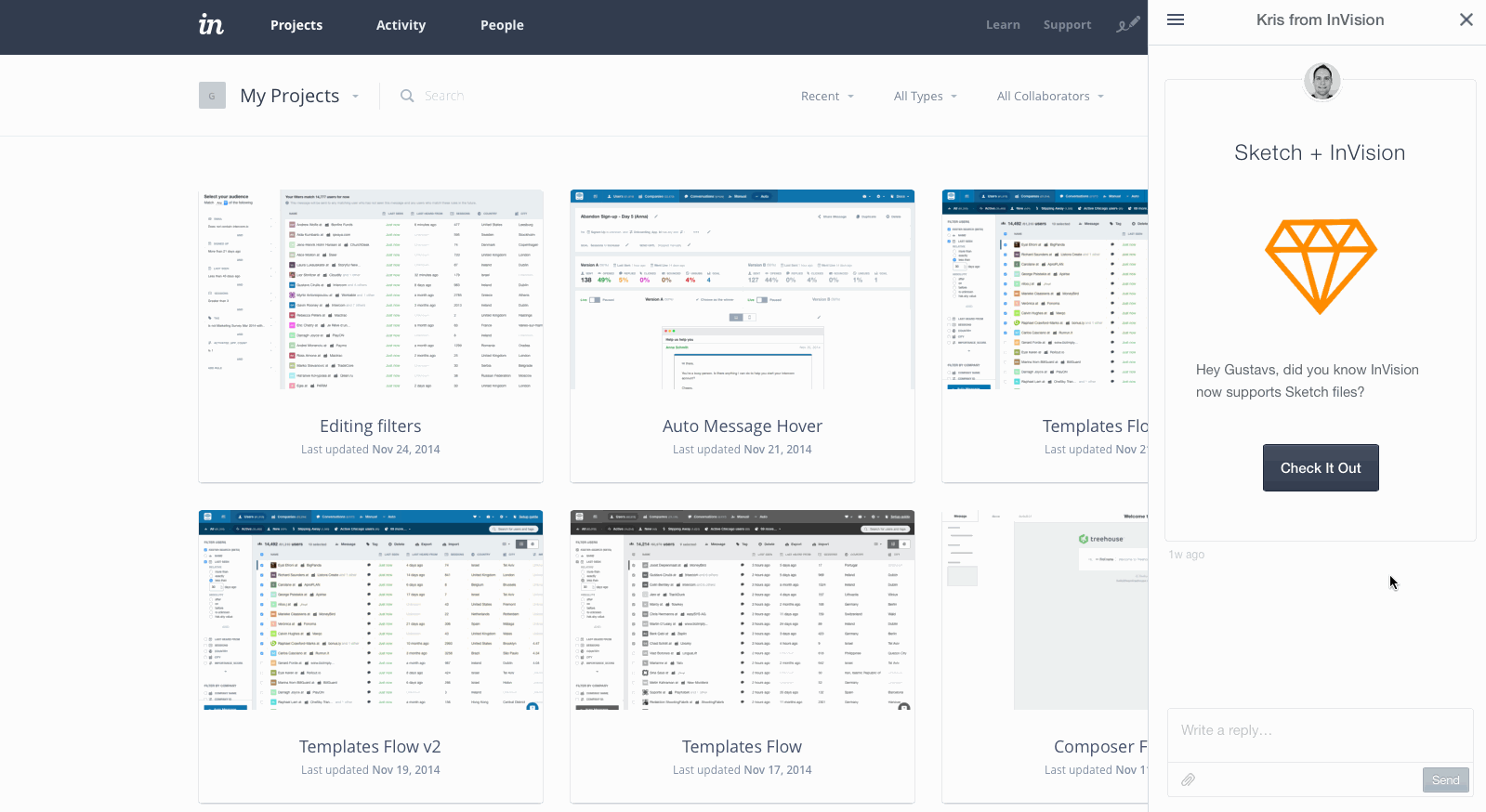 An in-app message announcing a new feature. Gifs add delight.
Ben also moved more open-ended Support conversations to Intercom, where InVision employees are able to "close the loop" better. Helpscout was great for showing fast response times for customers' issues, but not necessarily the right tool for managing the experience of other types of queries, specifically feature requests or bug reports.
"Now we can tag those users and let them know once a new feature has been implemented or a bug has been fixed. I think if a customer goes out of his or her way to give constructive feedback, the least we can do is close the loop properly."
Results
Thanks to the ability to send highly targeted, personalized messages, InVision has managed to grow its user base while keeping customer-facing teams streamlined.
Nowadays InVision enjoys email open rates of over 75%, and has a robust community of more than 500,000 customers–an incredible figure after only three years!