The 5 Ways to Qualify Leads: pros and cons
Lead generation is more important than ever, but not all leads are created equal. Pinpointing your hot leads is critical to the success of any marketing or sales project.
Hosted By: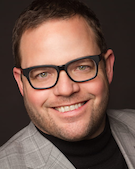 Jay Baer
Founder of Convince & Convert
Join Jay Baer (Founder of Convince and Convert) as he shares the 5 ways to find and qualify your best leads, fast.
You'll learn how to:
Convert leads fast with live chat
Ask the right questions to qualify your leads
Use 5 key lead qualification frameworks
Register now to save a spot!