Build a growth stack, not a tech stack
Tech stacks are the tools that marketing and sales use to reach out to customers and track results. They form the backbone of modern sales and digital marketing operations.
When set up right, they provide a clarifying view of your most valuable prospects and customers — and the next steps that your team needs to take to efficiently nurture a lead, close the deal or grow the account.
But, too often sales and marketing tech stacks are cobbled together from existing tools and workflows that have haphazardly developed over time. When adding a new marketing or sales tool to the stack, systems teams consider how the tool will interact with other existing tools. But they ignore the more fundamental question: can this tool propel the business to the next stage of growth and open a gateway to more revenue?
It's time for marketing and sales leaders to redefine tech stacks as growth stacks — the suite of tools that unlocks new ways of selling and better customer relationships. The suite of different tools that creates new business growth and leads your growth strategy.
Growth stacks aren't just for startups, they're for any business that wants to grow. From our combined years of experience helping companies build robust growth stacks, here are three things your tools should do to drive growth.
3 tips for building a sales and marketing growth stack
1. Accelerate speed to lead
Serious prospects have done their research by the time they reach out to your business. They've spent hours reading customer reviews, checking out your pricing options and researching competitors. So by the time they reach out, they're ready to take action. Don't let your leads sit idle because of outdated internal processes that dictate how leads need to funnel from one person to the next. Leverage marketing automation and lead generation before your valuable leads trickle away. Time can kill deals and these days, just five extra minutes will drop your chances of connecting with a lead by 9x.
"If you're not communicating real-time with your prospects, your competitors are"
One tool that guarantees faster speed to lead is live chat. Instead of waiting for leads to reach out to you, a live chat solution like Intercom's Messenger helps you connect with potential customers right when they're expressing the most interest with your product — when they're on your website. With more and more people expecting real-time service, if you're not communicating real-time with your prospects, your competitors are and they are stealing your leads.
2. Make customer handoffs invisible
When it comes to customer workflows, many teams focus solely on the leads handoff process between sales development reps and account executives. That handoff is a critical one to get right, but don't neglect the many other valuable handoffs that customers will experience throughout their lifecycle. Fragmented handoffs at any point of the customer experience can seriously dampen a customer's trust, putting the sales process in jeopardy.
Consider these touch points:
How do your account executives introduce hard-won customers to relationship managers?
When working with customers, can your customer support reps easily find out who the customer has worked with in the past?
Support reps often uncover valuable upsell opportunities while helping customers. What's the process for sharing that information with the sales team?
Are marketing activities such as email marketing shared with customer support reps?
"Fragmented handoffs at any point of the customer experience can seriously dampen a customer's trust in your brand"
So how can your growth stack facilitate seamless handoffs? Start by looking for tools that can help you build custom workflows to match your organization's unique setup (LeanData's routing solution, embedded directly into Salesforce, is great at this).
The tools should also notify team members when something's been assigned and help them prioritize their work (Intercom's Inbox can help).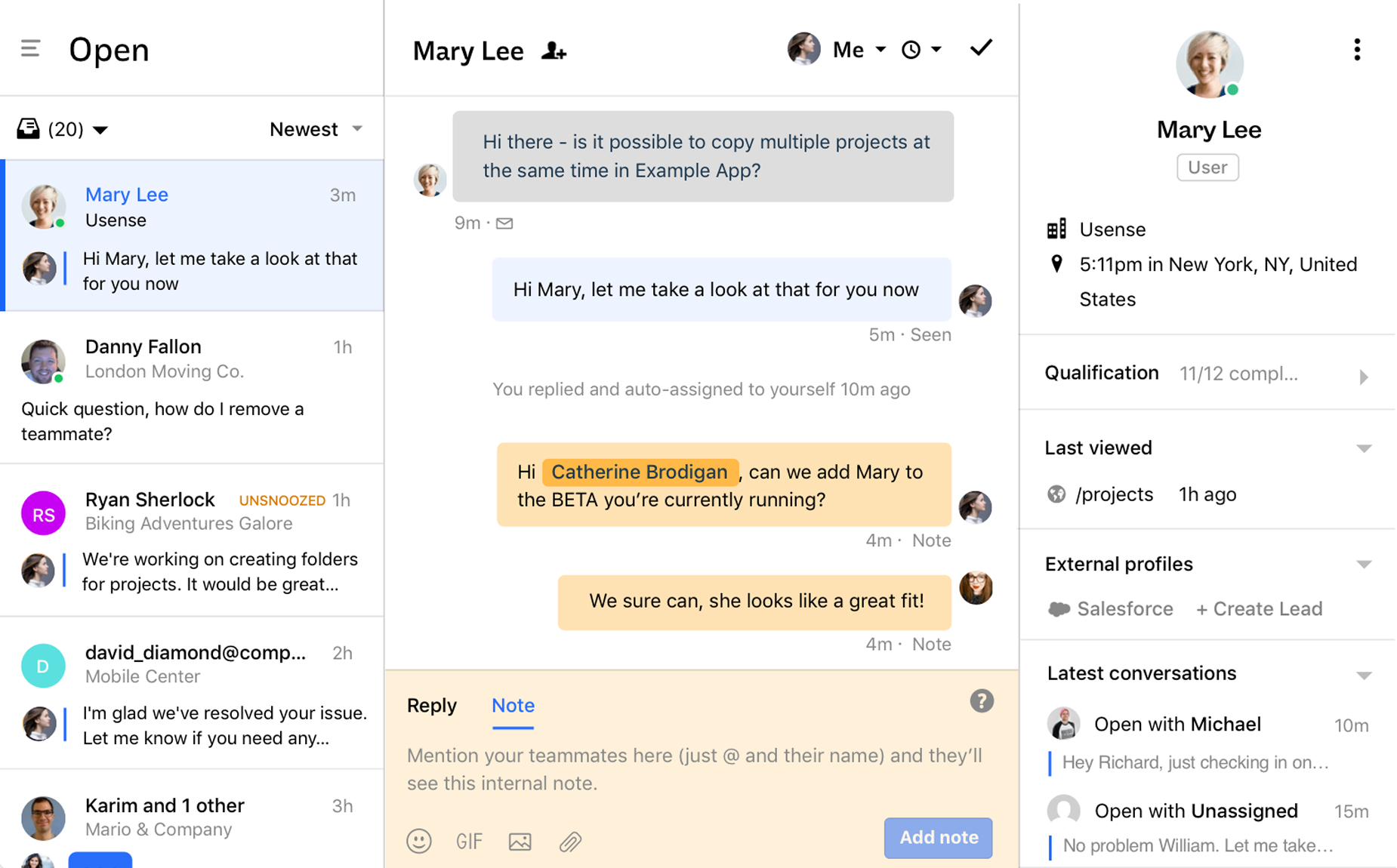 Last but not least, your tools should record key customer interactions and provide easy access to a customer's history so that teams throughout your organization can get full context when working with the customer for the first time.
3. Measure and attribute success
Sales, customer success and marketing teams support customers in different ways, but at the end of the day their activities all ladder up to one metric: the revenue number. One way to ensure teams are working towards this number is to encourage them to think about their respective work as contributions to a single supply chain that runs through the entire organization to produce happy customers. It starts with marketing and sales bringing in new users and customer success teams onboarding those users and ensuring that they continue to find value with your product. This means, having the ability to see aspects of the sales pipeline, from lead qualification all the way to making the sale. This not only helps your team review what works, but it gives your team a target for which customers have been the most successful.
To understand what activities — from marketing campaigns to sales demos to customer success initiatives — impact revenue the most, your organization must have a common data model, dashboard, and set of metrics that all teams can use to track performance. (Need an attribution modeling tool? Check out LeanData's Attribution.)
So when you're evaluating a new tool, consider whether the tool generates data that can easily integrate with your attribution model. Does this data help teams make better decisions about where to spend resources and what tactics to use?
Remember, there's an operational cost to adding new tools. New tools to your growth stack should not only drive efficiency; they should enable better collaboration and faster decision-making in your organization.
Should you buy or build your sales and marketing tools?
If you've identified a gap in your growth stack, you have two options: 1) buy something that's readily available or 2) invest the time and resources to build a custom solution. How do you decide?
In our experience, if the solution you're looking for is not your company's core competency, you should pursue the first option and buy the best solution in the market. This is the most cost-effective way to maintain a high-performing growth stack in the long run since you won't have to invest valuable internal resources to build and maintain your tools. More importantly, you benefit from the knowledge of external experts whose entire company is designed to solve your specific challenge. And their knowledge and partnership in the long run will help you stay innovative and ahead of the competition.
"Tools in your growth stack should unleash better collaboration and faster decision-making"
For example, a while back, the Intercom team was looking for tools to improve how we route inbound marketing leads. At the time, we were using a custom tool that we had worked with an agency to create. As our needs evolved over time, we found it increasingly expensive to maintain the tool. It took far too long to execute tool updates. And despite the constant maintenance, the tool simply couldn't provide the visibility we needed for our routing performance.
In the end, we abandoned the custom setup and switched to LeanData's best-in-class routing solution. By tapping into LeanData's routing expertise, we've been able to rapidly build complex workflows that match the way our teams work and most importantly, get insights on how leads route within our organization.
A customer-first growth engine
To stay competitive in this day and age, your sales and marketing stack needs to do more than just drive efficiency. It needs to be an integrated marketing, sales, and customer success stack that unlocks better customer relationships and new revenue. In a crowded marketplace, a relentless commitment to the customer's experience can be your strongest differentiation.