Droplr is a cloud-based file sharing app founded in 2009 by two former designers, Levi Nunnink and Josh Bryant. It has captured over 350,000 users to date with its intuitive interface. Unlike many of its competitors in the crowded space, Droplr distinguishes itself with a powerful API to push and pull files on premise or in the cloud.
Challenge
After spending years as a consumer-only product, Droplr began began tailoring a solution for businesses, and in early 2014 it launched corporate pricing, a team dashboard, and more collaboration features to make group file-sharing of screenshots, videos, and .gifs, a matter of drags and drops.
As any software startup learns at some point, you need to know what people are doing with your application and how they're using it," says Droplr co-founder Josh Bryant.
"When we first started, we were only focused on user growth rather than on revenue, and we quickly reached hundreds of thousands of signups without really knowing who they were or where they came from."
Overwhelmed by the new demands of more high-touch corporate customers, Droplr searched for an out-of-the-box solution to manage customer intelligence.
Finally, Josh realized that the information they really wanted wasn't what was happening, but who. The team needed the right data points to paint a human picture of their customers: where they came from, why they were coming to Droplr, where they tended to get stuck, what do they need to do their jobs better, and more.
We tried everything you can name: Mixpanel, KISSMetrics, Google Analytics, Chartbeat. But even after installing these tools and trying them, we'd eventually have questions about user behavior, like who or why users were doing certain things.
The team was also frustrated with the increasingly siloed way it was communicating with its customers. It was using different systems to launch marketing drip feeds, another for support conversations, and yet another for sales outreach.
Solution
Finally, Josh installed Intercom. By default, he could see real-time data on all of his users who'd signed up, some of which wasn't even in Droplr's database yet: last signed in date, features used, location, Twitter followers, and more.
Armed with this information, Droplr began segmenting its users by usage level and revamped its automated messages to target users based on key behaviors, rather than time, with the goal of either improving engagement or upselling them to another platform.
Here are three examples of Droplr's most effective automessages:
1. After figuring out the average number of sessions in a week it takes for a trial user to subscribe, Josh triggered a message to trial users who've had a lower number of sessions. The responses have revealed everything from stumbling blocks in the onboarding process to issues that are out of Droplr's control.
Low usage email
2. This message is intended to nudge active individual users into company accounts. Droplr automatically tags a work email domain and triggers the following email to active, passionate users.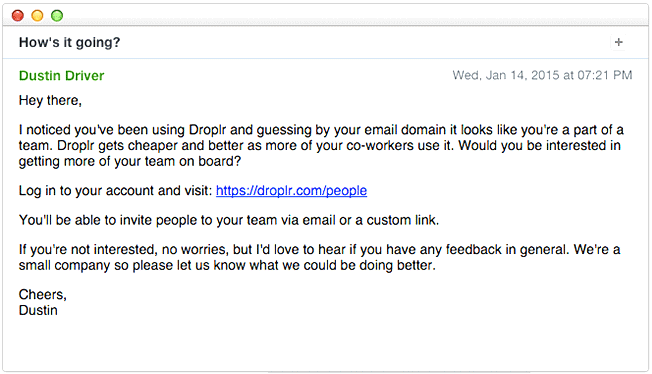 Upselling to a company account
3. When people cancel, it's important to understand why. Droplr triggers the following message to users who have canceled their accounts. The response rate is nearly 40% and has provided nuggets of insight into Droplr's audience and needs.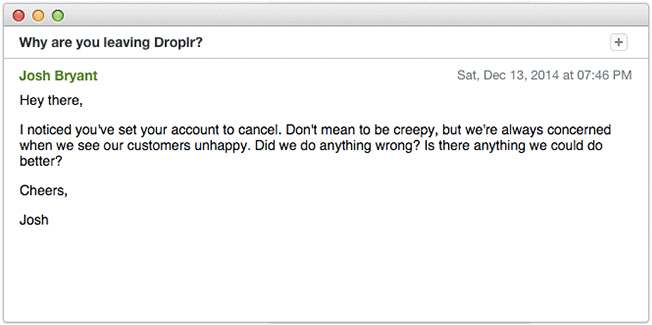 Why did you cancel?
For disclosure, Droplr frequently iterates the content and filters for its automessages based on what it wants to achieve. Josh particularly likes Intercom's simple A/B test feature for helping the team keep its messages as engaging as possible.
More recently, Droplr transitioned its entire Support queue from Desk.com to Intercom. Desk was great for ticketing, Josh says, but Intercom provided all the necessary context for best responding to a customer with a problem, such as frequency of usage, which features he's tried, what plan he's on, etc.
"Previously if a customer wrote in saying his app was broken, we'd have to go back and forth ten times to ask questions like 'which app are you talking about?' As you can imagine, this only irritates an already irritated customer even more."
With Intercom, you get all the right context to solve real people's problems. This is important if you want to treat your customers like people rather than like tickets.
Results
Intercom has transformed the way Droplr works. By consolidating all customer communications in one platform, the company has been able to prevent silos from forming. Furthermore Intercom's behavior-triggered auto-messaging allows the company to scale personalized experiences. Furthermore the team shares the responsibility of answering incoming customer inquiries, which not only cultivates empathy, but helps the team build stronger, more personal relationships with its 350,000 users.
Time is money, and we don't have time to switch through 10 tabs to communicate with users. Having one standardized place to communicate with customers is key.
"It's a bonus that Intercom is such a pleasure to use and that the people behind it are so down to earth," adds Josh. "Anytime we send a message to Intercom, we receive a thoughtful, fast response."